CENTRAL ALBERTA CO-OP ANNUAL GENERAL MEETING
Actions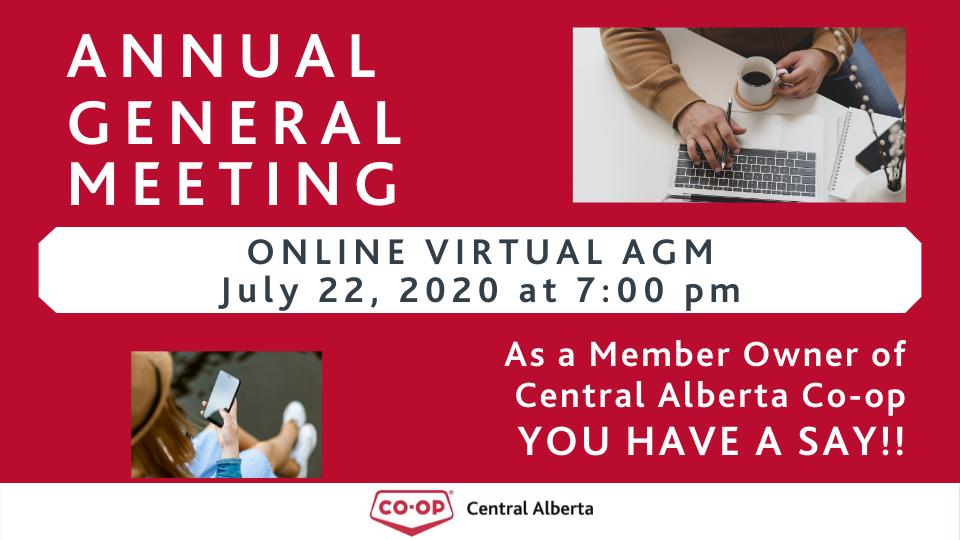 CENTRAL ALBERTA CO-OP ANNUAL GENERAL MEETING
June 29, 2020
As a member of Central Alberta Co-op, you are an owner. You have the ability to participate in the democratic process at our Annual General Meeting, which includes asking questions, proposing/voting on resolutions and electing board members.,
You are invited to join us on Wednesday, July 22 for our Virtual Annual General Meeting.
Due to COVID-19 and the health & wellness of our team, members and communities, we are not able to gather together for the evening and enjoy a meal together but we will be able to share the successes, challenges and adventures Central Alberta Co-op experienced in 2019. The agenda for the evening will include 5 proposed bylaw changes as well as a Director election. There are 5 positions up for election with 9 nominees having put their name forward.
In the attachments below, you will find the informational poster for the AGM, the Director Nominee biographies as well as the proposed bylaw changes.
This virtual meeting will be hosted by your Board of Directors and Senior Leadership.
Registration is now open and will close Friday, July 17, 2020 at 12:00 PM
To register, please visit cacagm.ca
Once you have registered you will receive a confirmation e-mail. Please check your Spam e-mail folder as it may arrive there.

Discover more: