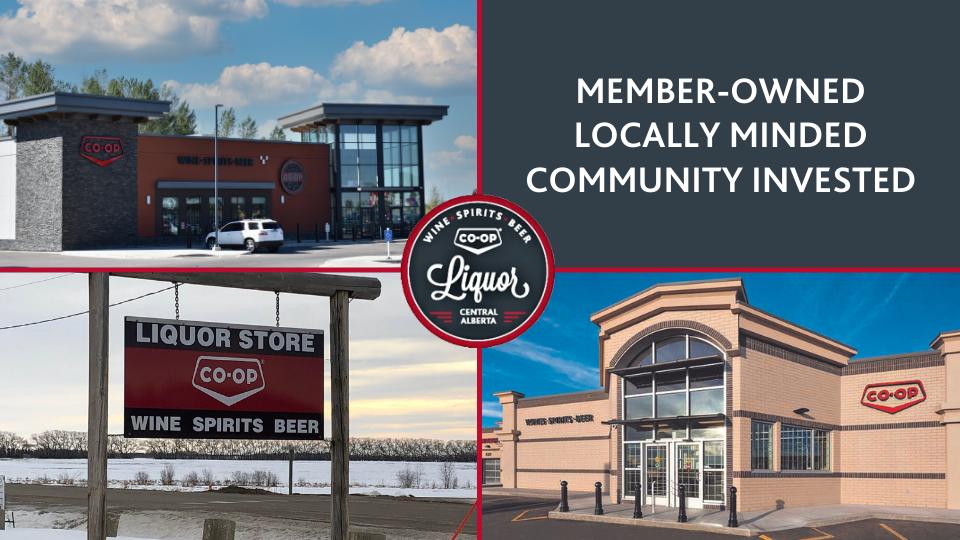 Who We Are
September 27, 2021
We are Central Alberta Co-op Liquor Stores. With seven locations across Central Alberta, we serve members from as far north as Lacombe, as far east as Stettler, as far south as Innisfail, and as far west as Spruce View. We also have three locations in Red Deer, in the Taylor Plaza as well as in Timberlands and the Deer Park Plaza. Our members are our owners, and our profits go back into the communities we serve.
Our first foray into liquor came as Red Deer Co-op in 2002 when we purchased the Deer Park Liquor Store. Subsequent locations opened in Lacombe in 2003, and in the Taylor Plaza in 2007. We continued to grow when the Spruce View location was amalgamated, and our Stettler location opened in 2013. Our Innisfail location opened in 2014, and our largest and newest store opened in Timberlands in 2017.
Our liquor division strives to debut new products as they become available to you, the consumer. We are situated in an area that is full of flourishing breweries and distilleries, and we have many of these local offerings in our stores. Our staff are knowledgeable about the products that we carry and offer top-class customer service; we take the Co-op "you're at home here" line seriously.
We stock many fantastic products at an every day low price, and offer great value with in-store Manager's Specials at each location. On the first Tuesday of the month, stop in and receive 10% off your purchase. We also offer a special on wine, buy 6 bottles and receive 10% off!
We have a flyer that runs for 2 weeks every month offering savings on a wide variety of products; from new offerings, to local craft beers and spirits, to domestic favourites and classic liquor staples. If there is an active flyer on, you'll find it here.
If you have a special event coming up, we can help supply your adult guests with quality products at a great price. Inquire about it in-store!
Now that you know a bit more about us, come on in and visit any of our locations for friendly service and great selection! If you prefer to order online and pick it up curbside, you can find more about that here.
We are member-owned and invested in the communities that we call home. We are Central Alberta Co-op Liquor.